Fine Art Velvet 藝術紙價目表


"Fine Art Velvet" Giclee Printing Service by Trail Studio, Hong Kong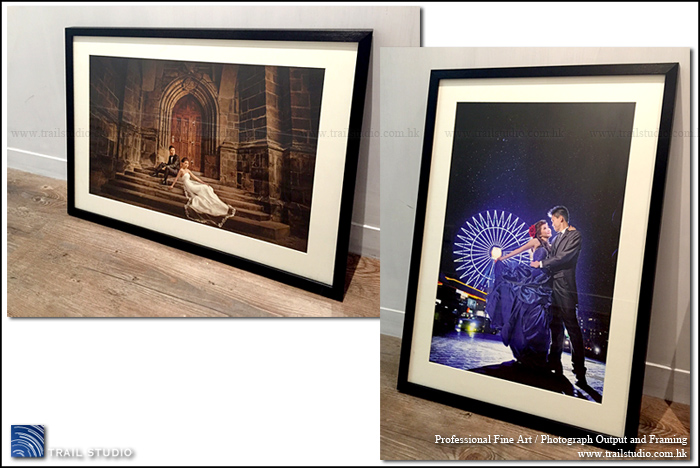 Framed Fine Art Velvet for Kenneth So (Wedding Photogrpaher)
Giclee-printing on fine art paper is a dedicate printing technology highly apperciated by the worldwide high-end art/photography market, with its high operation cost and high level of technical expertise, Trail Studio is one of the very few specialists in Hong Kong.
Like traditional fine art media, giclee-print fine art papers are commonly made of cotton/alpha-cellulose, these costly but natural and long-lasting materials allow the printouts to be archival-safe, with great tactile quality, look more artistic, unique and elegant than common photo papers.
"Fine Art Velvet" Product Feature:

1. A UK made, mid-range, all cotton fine art paper
2. Matt finish, slightly warm tone, heavy-weight and textured. A little bit velvet-like as its name suggested.
3. Archival-safe and adds tactile quality to the printout, hence making it feel more artistic, unique and elegant than common photo papers.
4. An extra 0.5" white border will be added outside of the image(free of charge) as our general practice, for framing traditionally with passe-partout. For borderless printing, please specify when placing order.
5. In humid places like HK, large photo papers may look a bit wavy after absorbing air moisture if not entirely mounted(adhered) onto a backing. FINE ART PAPER is recommended over it if you don't want to/can't entirely mount the print, but don't care for a wavy surface.
6. Recommended for general-topic photography, education use, painting/artwork duplication, and as bundled printout in commercial photography packages.

Important Note:
1. Print-only and printing w/framing both welcomed, but a large-size bare-print is very delicate, having us frame it in-house under the same roof assures final quality, also saves your time and effort.
2. Strictly-speaking its weakness is a bit lack of punch in very dark-tones, and because of its warm-tone, not too recommended for very demanding black & white, cold-tone and low-key topics. For top-quality printouts, recommend "Hahnemuhle".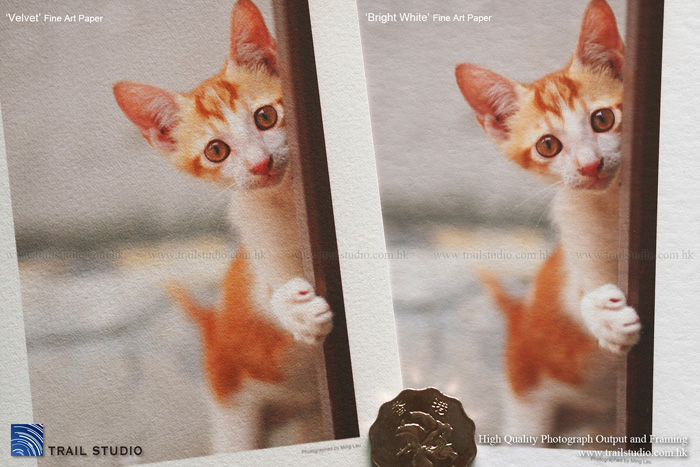 Paper texture. Left: Fine Art Velvet. Right:Fine Art Bright White
Effect may differ under different lighting directions/ conditions. Click to enlarge.

Product type: Fine Art Velvet
Print-only fee. Framing is optional and separately charged.

Code


Image Size
(English Inch)
Printing Fee
(Print-only)
3:2
Image Aspect Ratio
4:3
Image Aspect Ratio
1:1
Image Aspect Ratio
2:1 影像比例
Image Aspect Ratio
16:9
Image Aspect Ratio
Not available for sizes larger/smaller than those listed above, according to the corresponding aspect ratios.