相片裝裱相框價目表 (印相配套服務)


Add-on Framing Service for our printing customers
Framing is an optional add-on service for our 5 types of professional photo papers/ fine art papers as shown below, and is irrelevant to other frame-included production-types. We DO NOT construct empty frames/ frame outside-artworks.
Trail Studio provides one-stop, in-house add-on framing service for our photo printing/fine art printing customers using the above services, so that customers don't necessarily need to get the prints framed elsewhere, time and effort can be saved and the risk of damaging a delicate bare-print is eliminated - it rarely happens as we work very carefully, but in case we accidentally damage the expensive printout during framing, we will take the responsibility to reprint it.
In contrast, the policy of many if not all of them may just refund the framing fee without compensation in case of damaging an outside-artwork. The chance of accident depends on the skill (likely associated with price) of the framer, but will never be zero.
CAUTION: Framing/dismantling large photo frame without professional knowledge and experience may result in frame/printout damage or even serious injury.
Photo Frame Structure (for reference only)
This is a simplified structural drawing. The actual parts and details depend on size/ weight/ use/ special requirements etc.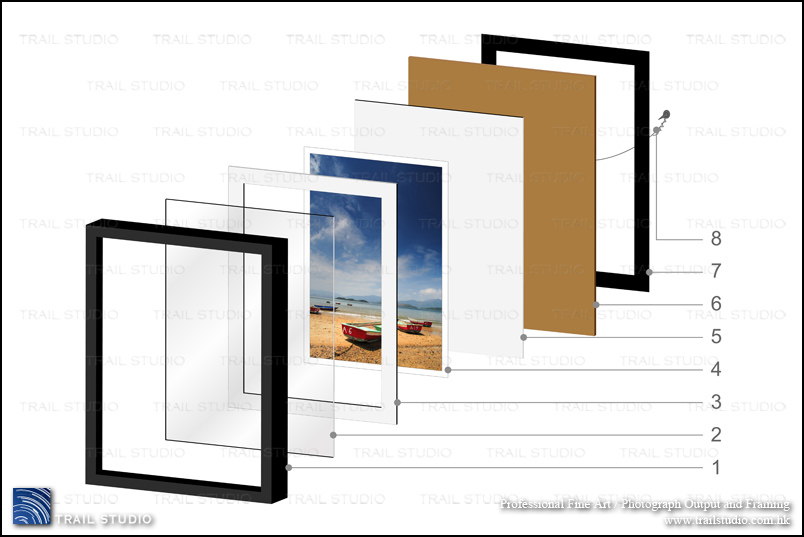 1 Frame
2 Standard glass glazing (plexiglass quoted separately)*
3 Mat/ Mount/ Passe-partout
4 Print/ Artwork
5 Backing board/ Mounting board
6 Backboard
7 Sealing and/or reinforcement (depends on size/ weight/use etc.)
8 hanging loop or hook (depends on size/ weight/ use etc.)

Framing options
1 FB-series(basic)/ FA-series(aluminum) picture frame
2 White/ off white/ black passe-partout
3 Standard glass glazing (plexiglass quoted separately*)
* The cost of plexiglass is roughly 3 times of standard glass. Since 2018, we replaced standard glass with plexiglass glazing FREE OF CHARGE for all large sizes in order to prompt product safety.
Important Note
1 Glazing size is the size of a mounted print.
2 Approx.framed size=glazing size +1" for FBframe; +0.5" for FAframe.
3 Edges of frame-components overlap one-by-one, viewable-sizes are usually smaller than marked-sizes. Buffering space is also need between some components, all sizes are approximate.
4 Because of the same reason, the edge of a print (~5mm) will be covered and this is termed "bleeding".

Total Fee of a Framed Photo
Printing Fee + Framing Fee(same Image size) = Total Fee
影像尺寸(吋)


Image Size



玻璃尺寸


Frame-Glazing Size

裝框費用 (HK$)


Framing Fee (HK$)
FB相框
FB Frame
FA相框
FA Frame
3:2
Image Aspect Ratio
| | | | | |
| --- | --- | --- | --- | --- |
| 36 x 24" | 40 x 28" | | +$1757 | +$2048 |
| | | | | |
| --- | --- | --- | --- | --- |
| 30 x 20" | 34 x 24" | | +$1333 | +$1596 |
| | | | | |
| --- | --- | --- | --- | --- |
| 27 x 18" | 31 x 22" | | +$1281 | +$1530 |
| | | | | |
| --- | --- | --- | --- | --- |
| 24 x 16" | 28 x 20" | | +$1109 | +$1344 |
| | | | | |
| --- | --- | --- | --- | --- |
| 21 x 14" | 24 x 17" | | +$827 | +$1048 |
| | | | | |
| --- | --- | --- | --- | --- |
| 18 x 12" | 21 x 15" | | +$775 | +$982 |
| | | | | |
| --- | --- | --- | --- | --- |
| 15 x 10" | 17 x 12" | | +$723 | +$916 |
4:3 Image Aspect Ratio

| | | | | |
| --- | --- | --- | --- | --- |
| 36 x 27" | 40 x 31" | | +$2018 | +$2317 |
| | | | | |
| --- | --- | --- | --- | --- |
| 32 x 24" | 36 x 28" | | +$1716 | +$1995 |
| | | | | |
| --- | --- | --- | --- | --- |
| 28 x 21" | 32 x 25" | | +$1323 | +$1582 |
| | | | | |
| --- | --- | --- | --- | --- |
| 24 x 18" | 28 x 22" | | +$1130 | +$1370 |
| | | | | |
| --- | --- | --- | --- | --- |
| 20 x 15" | 23 x 18" | | +$827 | +$1048 |
| | | | | |
| --- | --- | --- | --- | --- |
| 16 x 12" | 18 x 14" | | +$754 | +$955 |
1:1
Image Aspect Ratio
| | | | | |
| --- | --- | --- | --- | --- |
| 28 x 28" | 32 x 32" | | +$1966 | +$2251 |
| | | | | |
| --- | --- | --- | --- | --- |
| 24 x 24" | 28 x 28" | | +$1653 | +$1916 |
| | | | | |
| --- | --- | --- | --- | --- |
| 20 x 20" | 24 x 24" | | +$1250 | +$1490 |
| | | | | |
| --- | --- | --- | --- | --- |
| 16 x 16" | 19 x 19" | | +$817 | +$1034 |
| | | | | |
| --- | --- | --- | --- | --- |
| 12 x 12" | 14 x 14" | | +$734 | +$929 |
2:1
Image Aspect Ratio
| | | | | |
| --- | --- | --- | --- | --- |
| 36 x 18" | 40 x 22" | | +$1716 | +$1995 |
| | | | | |
| --- | --- | --- | --- | --- |
| 30 x 15" | 34 x 19" | | +$1302 | +$1556 |
| | | | | |
| --- | --- | --- | --- | --- |
| 24 x 12" | 27 x 15" | | +$858 | +$1087 |
| | | | | |
| --- | --- | --- | --- | --- |
| 20 x 10" | 22 x 12" | | +$796 | +$1008 |
16:9
Image Aspect Ratio
| | | | | |
| --- | --- | --- | --- | --- |
| 32 x 18" | 36 x 22" | | +$1674 | +$1942 |
| | | | | |
| --- | --- | --- | --- | --- |
| 24 x 13.5" | 27 x 16.5" | | +$1109 | +$1344 |
| | | | | |
| --- | --- | --- | --- | --- |
| 20 x 11.2" | 22 x 13.2" | | +$817 | +$1034 |
| | | | | |
| --- | --- | --- | --- | --- |
| 16 x 9" | 18 x 11" | | +$744 | +$942 |